Victory Baptist School began as Victory Baptist Preschool and Kindergarten over twenty years ago, and we continue to place proper attention to these early years since childhood is the best time to lay the cornerstone essential to a lifetime of successful learning.
Using the proven, high-quality, Bible-based A Beka Book curriculum (emphasizing the fundamentals of numbers, writing, and a phonetic approach to reading) allows students to learn to read before they graduate from kindergarten. Common courtesy, good manners, self-control, and appropriate conduct are just some of the biblical traits strategically introduced, purposefully reinforced, and fully incorporated throughout these formative years.
"Train up a child in the way he should go: and when he is old, he will not depart from it." Proverbs 22:6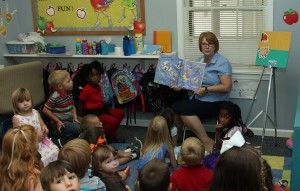 Our action-filled environment stimulates and encourages an excitement for learning. Besides the academic subjects, students enjoy daily Bible time and other hands-on activities such as science, social studies, art, and music. K5 students also love having Spanish and computer classes!
We believe in teaching from a biblical perspective since clear teaching of the Bible is the foundation for all other learning. All classes use the King James Bible for daily Bible lessons and Scripture memorization. Weekly chapel time engages and challenges kindergarten students with a relevant lesson applicable to their life (K3 and K4 students experience chapel once a month).
PreSchool (K3)
Students must be three years of age by September 1.
Class meets Tuesday-Friday.
Class times are 8:10-12:00.
PreKindergarten (K4)
Students must be four years of age by September 1.
Class meets Tuesday-Friday.
Class times are 8:10-12:00.
Kindergarten (K5)
Students must be five years of age by September 1.
Class meets Monday-Friday.
Class times are 8:10-3:00.
For Kindergarten (K5) students only –
Dress Code
Students wear a school uniform (uniform lists and purchasing information is available in the school office). The girls wear blouses, jumpers, and uniform pants/skirts/skorts. The boys wear long pants or shorts and a shirt with a collar. On Fridays, students may wear spirit wear that is purchased through the school.
Extended Care
The early drop-off time is 7:30 a.m. ($5.00 per student per day), and the two late pick-up times are 4:45 ($7.50 per student per day) and 5:30 ($11.50 per student per day).
Testing
Achievement test scores have consistently shown our students ranking well above average nationally as well as within the schools in the Georgia Association of Christian Schools. Victory Baptist School administers achievement tests to students in kindergarten through high school during the spring of the school year. Parents are notified of the exact dates, and a copy of the results are sent home to parents.